25 Jan 2022 | ESLteachers
If you're new to Hong Kong, you may be surprised to learn about some of the rather unusual sports events that many local residents take part in. As you immerse yourself into the culture of Hong Kong, why not stay active by giving these events a go? We've compiled a list of five sporting activities that will pique your interest for sure. Even if you're not a sporty person, you certainly wouldn't want to miss these events!
Dragon Boat Racing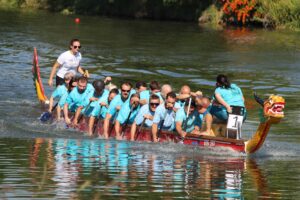 If you ever look out onto the water, there's a chance you may be in for a fearsome sight—dragons racing across the harbour! Don't worry though, these are just traditional Chinese dragon boats. Dragon boat racing has been a traditional Chinese water activity for more than 2000 years. It was not until the mid-1970s when dragon boat racing was seen as a sport in the modern era, with the first International Dragon Boat Festival being held in Hong Kong in 1976. Dragon boat races are held annually throughout ten sites in Hong Kong, with the Stanley International Dragon Boat Championships at Stanley Main Beach being one of the most popular ones. The best time to watch dragon boat races is during Tuen Ng Festival (a.k.a. Dragon Boat Festival), a festive day that commemorates the famously patriotic poet Qu Yuan. 
Bun Snatching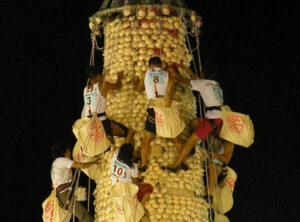 This is one you don't see every day—a tower made of buns! During the Da Jiu Festival in May/June, a conical bun tower is erected outside of Pak Tai Temple on the outlying island of Cheung Chau. The festivities see 'bun mountain' climbers racing up the 18-metre-tall tower to grab as many buns as possible; the higher up the buns are, the more points they're worth. Historically, edible steamed buns were used for bun-snatching races. But things have changed over the years, with the steamed buns now replaced by plastic ones.
Central Rat Race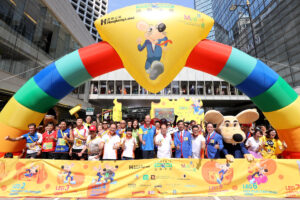 If you ever want to see a banker dressed as a block of cheddar, you're in the right place. You won't brie-lieve it until you see it. The Central Rat Race is one of Hong Kong's most iconic charity events. Taking place in the heart of the central business district, it debuted in 2006 and has been held annually ever since. In the heavily cheese-themed races, teams of executives navigate eight different obstacles in either their business suits or creative costumes, passing a yellow briefcase 'baton' between each other as they race their way to the finish line. If cheese is your kind of thing, you're in for a gouda time!
SHKP Vertical Run for Charity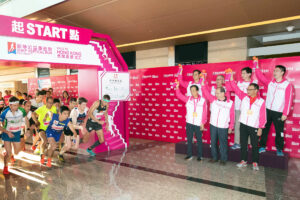 Who says you need to go far for a run? The cityscape of Hong Kong is all about verticality and so is this sports event. First introduced in Hong Kong, the 'SHKP Vertical Run for Charity' is a charitable event to encourage healthy living and a spirit of giving. With a cause to generate funds for underprivileged children, the running race takes place inside the 108-storey International Commerce Centre, the tallest skyscraper in Hong Kong. Participants have to climb a whopping 2120 steps in a race to the finish line up in the clouds—the Sky100 Hong Kong Observation Deck on the 100th floor. 
Tai Chi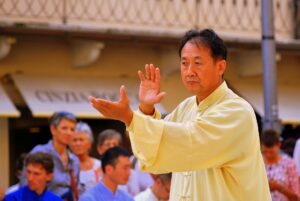 After all this strenuous exercise, I think we all need a break! So, for our final entry let's slow it down and unwind with something a bit more relaxing. While tai chi isn't traditionally considered a sport, when you're out and about in Hong Kong, you're bound to stumble upon a group of people practising it in a public park or by the waterside. Tai chi is a graceful Chinese martial art combining deep breathing and relaxation with flowing movements. It's often practised as a form of defence, but you can't overlook the many health benefits that it brings. Need to de-stress after a long day at work? Then, perhaps tai chi is the sport for you.