14 Dec 2018 | Veronica
This guide explains the procedures for a working (employment) visa extension with the same sponsor. Please refer to the Immigration Department website for detailed information or other applications.
Guide last updated September 2018.
At a Glance
Office Hours: 8:45-4:30pm (Mon-Fri), 9:00-11:30 (Sat)
Cost: $190 HKD (payable by cash or Octopus)
Book an appointment: 2598 0888
Walk ins: arrive by 8:15am
Expected wait time with appointment: 1-3 hours.
Expected wait time without appointment: 4-7 hours
Website: https://www.immd.gov.hk/eng/contactus/hq.html#3
Bring: Passport, HKID, work contract, form completed by your employer, $190 cash
VISA EXTENSION – For working visa extension with the same sponsor
1. You will need to make a trip to the 5th floor of the Immigration Department. There are two ways to do this: making an appointment, or getting a walk-in spot that morning.
Making an Appointment
Call 2598 0888 at any time (it's an automated 24-hour service) before your desired appointment time. The system is straightforward and you can adjust or make changes up to one day before the appointment date. *Have your HKID number on hand when calling!
On the day of your appointment, head up to the 5th floor and check in at the short line for "Online/Telephone Bookings". At this point you'll be given a number to wait for your interview.
Walk-In Appointment
Mondays-Fridays the extension section will take 195 non-permanent resident applicants, (only 30 on Saturdays) and people start lining up early. The earlier you arrive – the faster the rest of your day will go. The counter technically opens at 8:45am, but by 8:30am there are typically 30-50 people already in line. Try to get there by 8 or 8:15am. That extra time before the counter opens could save you hours of waiting later.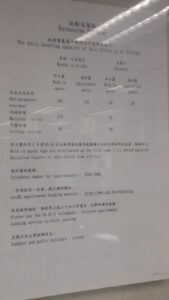 2. Wait for your number
Bring a book, snacks, or whatever else will keep you comfortable during what will likely be a 2-4 hour wait (less if you arrived early or made an appointment!). Although there is a board posted for numbers called, the officers sometimes call applicants over the intercom without posting it – keep one ear bud out to ensure you don't miss your name! If at any point you are concerned about having missed your number, or have any other questions, ask at counter 3.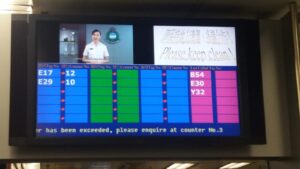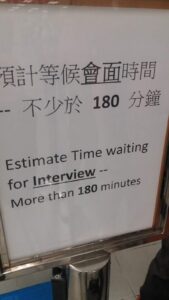 3. Interview
Once your number has been called, you will have a short interview with the immigration officer. For a visa extension this process is generally short and straightforward – they may ask the reasons for your extension, confirm you are staying with the same employer, etc.
4. Visa Collection
Congratulations! You're nearly through! After your interview you will be instructed to go to counters 25-29 to collect your visa. Settle in for an expected 1.5 hours+ here, dependent on the number of staff. Have the required $190 HKD (cash or Octopus) ready, and when you are called you can collect your passport.
**Before leaving the counter check your visa information. Ensure that the expiry date, passport number, and name are correct – if there are any mistakes inform the desk staff immediately.
NEW APPLICANT?
New visa applications are on the 24th floor. You should bring with you all the documents that your company has helped you to compile. Dropping it off is as simple as passing the envelope to the person behind the counter, so this errand shouldn't take more than 10 minutes!
After it has been submitted, the wait time ranges from 4-6 weeks. Unless immigration gets in contact with you or your company, the only thing to do at this point is to wait. Don't forget, whatever restrictions applied to your status in Hong Kong remain until your new visa has been stamped. If you are applying from a visitor visa, this means you are unable to work or volunteer during this wait!
DIRECTIONS TO THE HONG KONG IMMIGRATION TOWER.
Follow the directions below for how to get to the Hong Kong immigration tower.
1. Take the Island Line (blue) MTR to Wan Chai station.
2. Exit A5, as indicated on the information boards.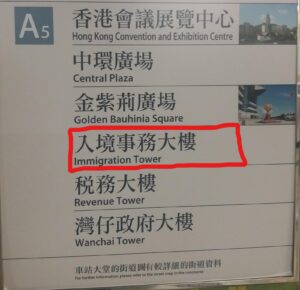 3. Follow the walkway.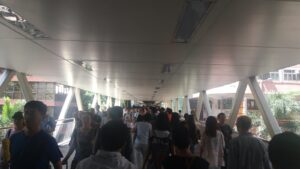 4. You're there!